The expedition begins...
09/02/14 11:52
The idea for the Joseph Hooker documentary project began in a roundabout way. Forty years ago I was fortunate enough to be a member of a film crew with Sir Edmund Hillary in the Everest region. At that time there were few tourists and we stayed in local homes. Being interested in mountains, I have always wanted to return to film in the Himalayas but have been put off by the number of tourists. So in looking for an area still rarely visited, I thought of the Kangchenjunga region. It is remote and takes weeks of walking to visit so only small numbers of experienced hikers go there. My idea was to make a documentary about a group of fit walkers in their late 60s making this trek.

In researching the idea I soon came across Sir Joseph Hooker's name as he was the first European to visit the area in 1848. As an ex-scientist with an interest in the formulation of the Theory of Evolution I recognised his name and started looking at his expedition in more detail. Before long I discarded the original idea and decided to make a documentary retracing Hooker's journey. My plan was to take the identical route at the same time of year and see what had changed. I contacted the Royal Botanic Gardens at Kew and arranged to visit and photograph many of their Hooker artefacts as I wanted to compare Hooker's drawings with what one sees now. Kew was extremely responsive to this request by an unknown film maker who at that stage had only fairly well formed plans, and I cannot thank them enough. I interviewed Hooker expert Jim Endersby and others and filmed at many places in London as well as at Darwin's home and elsewhere.

The next step was to arrange the Himalayan expedition. Through contacts I was put in touch with Jamie McGuinness of Project Himalaya
www.project-himalaya.com/about-
jamie
-
mcguinness
.html
in Kathmandu. Jamie has climbed Everest several times and was very helpful. He assigned his top sirdar Dagelje Sherpa to arrange and lead the support team. Dagelje, or Dawa as he is known,
www.facebook.com/dagelje.sherpa
has also climbed Everest several times and is a very famous sherpa who has been over 8000m more than 40 times. He is a founder of the High Altitude Mountain Workers Welfare Association a very important group for a high risk occupation. Just ambling down a street in Kathmandu with Dawa is quite an experience as he is so well known. During the expedition Dawa and I walked together most days discussing everything from Buddhism (he was initially a young monk) to his family and exploits. We became close friends and remain in contact. Dawa arranged for five sherpas to travel from Kathmandu by road for nearly a week with most of our equipment and for eighteen local porters to be hired to meet us at the short landing and takeoff strip at Suketar .

I persuaded three young Australians to become the film crew. My nephew Aaron Donaldson who is a doctor, mountain bike racer and interested in video signed up. Dan Novak, a young outdoors man working on the Fox Eradication program in Tasmania and a very good photographer agreed to come. Dan and I had previously walked the beautiful Tasmanian Overland Track together. Aaron and Dan were to share the filming. The third person was Jason Taffel. Jason is the nephew of a walking mate of mine and works in a climbing store and is very interested in the outdoors. His job was to record sound and help with reflector lighting. It turned out to be a great fun crew who all got along very well.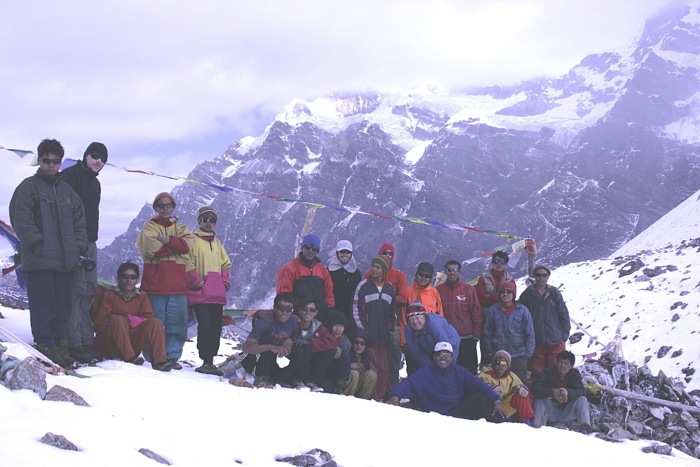 Most of the team at Nango Pass.

Next week: some technical nitty gritty.